Chelsea to sell Lukaku to buy Cavani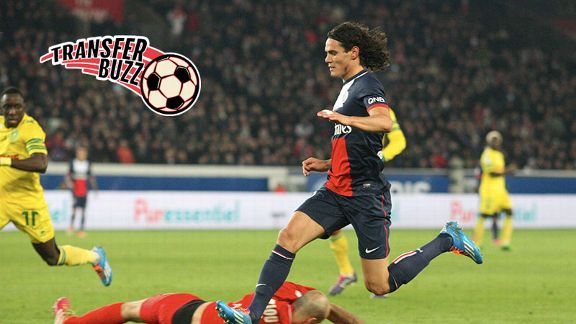 GettyImagesChelsea are targeting Edinson Cavani for a summer swoop.
Chelsea are planning a summer shopping spree that includes Paris Saint-Germain forward Edinson Cavani. Just one problem – they'll have to sell Romelu Lukaku to raise the money!
Meanwhile Manchester City are also keeping a close eye on PSG, waiting in the wings to pounce on Blaise Matuidi and guess the nationality of Newcastle's next transfer target?
It's good news and bad news for Chelsea fans with the Mirror reporting that the Stamford Bridge outfit are preparing a big money move for Paris Saint-Germain striker Edinson Cavani in the summer. Here's the kicker though -- the club will have to sell Belgium international Romelu Lukaku to fund the transfer. Reports have surfaced that Uruguay international Cavani has grown restless in the Paris capital after being played out of position by PSG boss Laurent Blanc. And that's all Chelsea manager Jose Mourinho needs to decide to make a play for the 26-year-old. But that will mean the end of Lukaku, a striker who has scored 26 Premier League goals while on loan at Everton and West Brom. Tottenham, Arsenal and Atletico Madrid are waiting to pounce.
Manchester City are in hot pursuit of PSG midfielder Blaise Matuidi with the Sun reporting that the Premier League high-flyers will offer the France international 8 million pounds to join the Eastlands club. Matuidi's contract with the Ligue 1 champions is set to expire at the end of the season with the 26-year-old no closer to extending his 40,000 pound-a-week contract with the club. And that has caught the attention of rival clubs with City expected to lure the holding midfielder with a whopping offer as they can sign him for a free in the summer.
Finally, Newcastle's love affair with French talent knows no end with the Daily Star reporting that the Magpies have Lyon midfielder Clement Grenier on their radar. The 23-year-old France international has earned rave reviews for the Ligue 1 club this season, scoring six goals in all competitions. However, that talent could soon be on show in the Premier League with Newcastle boss Alan Pardew hoping to add Grenier to his stable of French stars. But Pardew could have a fight on his hands with Arsenal and Liverpool also interested in the 10 million pound rated player. www.hatasisitupo.blogspot.com