• Barça answered critics with victory over Manchester City
• Mourinho said Spanish club were 'worst team in many years'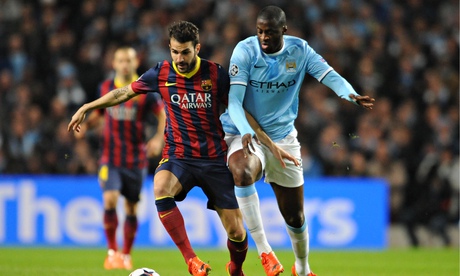 Cesc Fábregas
has told
José Mourinho
to mind his own business after the Portuguese's claim that the current
Barcelona
team is the poorest of recent memory. The midfielder, who was pivotal in
Tuesday evening's 2-0 defeat of Manchester City
, believes Mourinho, below, should concentrate on his own club. "He should talk about
Chelsea
and their tie [with Galatasaray]. I don't think he should talk about anything else. It is not his business," said Fábregas, who denied Mourinho's comments had driven Barça on. "If we have to get motivated by Mourinho's comments we shouldn't play football."
City have to score three and concede no more than one in the return leg at Camp Nou on 12 March. Can they do it? "They have a chance, of course," said the midfielder. "They have confidence. You always have a chance until the referee says otherwise. It is 180 minutes, not 90. We have to play the same and we will go through."
Regarding what had been the key to Barça's win, which came through goals from Lionel Messi and Dani Alves, Fábregas said: "It was about controlling the game. We know they are good on the counter and when they play offensive football they play it very well. They know what they have to do, we controlled them very well and we did not let their fans get behind their team. We minimised all their efforts. It was a very complete game.
"When you have players like Leo, Xavi, Andres [Iniesta] – you can beat them but not if you can't take the ball away from them. We did that very well - we did not let City have the ball. If you do not have the ball, you can't create chances. We have to be very proud.
"We knew [City] have scored a lot. I watch the Premier League every week and they have been very superior to all these sides when they have played [at home] – so it is normal everyone gets excited [over this win]. Especially in a nice competition like the Champions League. We knew what we had to do and did it very well."